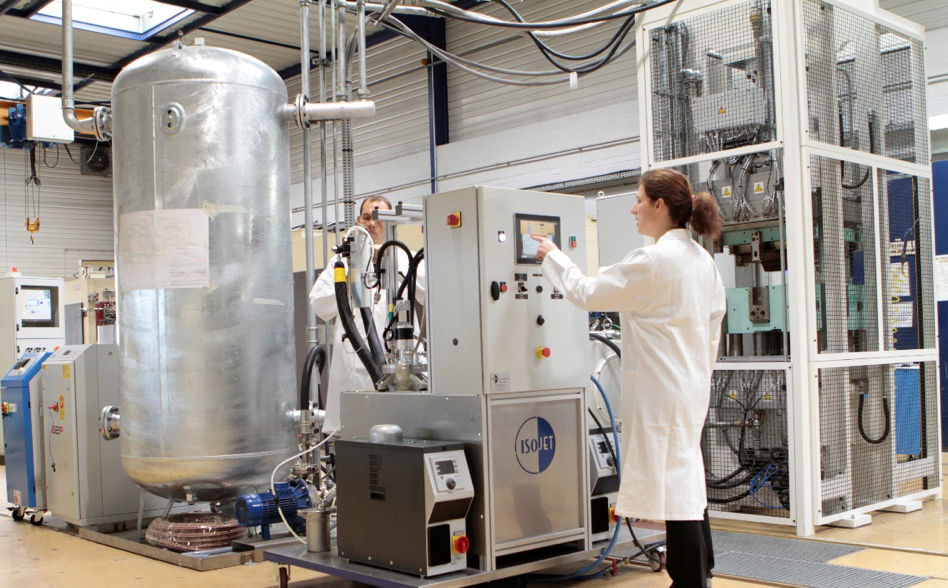 MSc Eco-design and Advanced Composite Structures
An update in composite materials and technology, meeting project management, industrial and environmental requirements!
Goals
Responding to industrial challenges
Composite materials are being developed more and more by the industrial sector. By adding to the respective qualities of several constituents, their overall performance is significantly improved. It is therefore not surprising to see their rapid growth to meet current challenges, for example to reduce the weight of vehicles, disability inclusion but also the improvement of sports equipment.
Unique expertise in composites
This led IMT Nord Europe to establish the MSc Eco-design and Advanced Composite Structures to develop your expertise in composite materials, particularly sought after in this high-tech industry. It takes into account all the issues in the sector, in particular controlling the life cycle of composites and their environmental impact in the context of ecological transition.
"Composite" training
This masters course is also "composite" to be in step with industrial realities and their needs for specialised skills. On the technical side, you will work in project mode with all the resources of the IMT Nord Europe laboratories to trial the development of composites on a real scale: technological platform, digital resources, IT cluster, etc. Expertise supplemented by training in management and in project management via a one-semester course at the Institut Mines-Télécom Business School, our academic partner.
Job opportunities
Design manager/director
The design manager organises the resources and planning of a team of designers to meet the needs of the client in the pre-production phase. They identify technical solutions, in line with market developments and innovations, while ensuring the economic viability of the product. They have the ability to assess the social, environmental and financial impacts of the final project. They work in direct contact with clients throughout the different phases of the project.
Development project Manager/Director
The development project manager is in charge of the development and/or research of products and processes, from the initial design phase through to serial production. They support clients to define their needs and develop appropriate solutions. Using different profiles, they draw up the technical schedule and the financial plan. They also ensure that the solutions proposed throughout the project are shared with the various entities or are widely communicated
Admissions
Requirements
To apply to this MSc programme, we require that you hold at least a Bachelor of Science or equivalent (B.Eng., Licence scientifique, etc.)
Besides, you need to have a B2 level in English. And you must provide a document attesting your English language knowledge (TOEIC, TOEFL, IELTS…)
Fees
The application fee for the Master of Science programmes is 60 euros. You can pay through an electronic bank transfer. Please note that this fee is non-refundable, even if an application is denied.
Application Deadline
We advise that you start as early as possible, it may take time to gather all supporting documents necessary to your application.
The application deadline is June 30th, 2022, for next intake in Fall 2022.
Selection Procedure
Step 1: The Admission Team reviews your application documents together with the submitted application form. If your application is selected for further consideration, we will notify you by e-mail and give instructions on the next step to take.
Step 2: You will be interviewed by the Admission Team and the Director of Studies. Applicants may not need to come to France for the interview depending on the other arrangements we can make. The working language in the interview is English.
Step 3: Following the interview process, a feedback will be given to all students. If you are admitted to IMT Nord Europe, congratulations and welcome!
Syllabus
Syllabuses are subject to change in accordance with IMT Nord Europe's scientific and educational advances
Head teacher
Ing. PhD. Mylène LAGARDERE
Funding
The tuition fees are €9,000 per year (€18,000 in total).
According to your country of origin and academic records, you may be eligible to one of the several scholarship programmes that exist. Here are some examples:
South

 

Africa: The France – South Africa Scholarship Programme (until September 21th, 2021)
Worldwide: Eiffel Scholarship Programme of Excellence (until January 7th, 2022)

Thaïland: 

Franco-Thaï Scholarship Programme

 

(until February 19th, 2022)

Europe: 

France Excellence Europa scholarship programme (

until March 15th, 2022)

India: Charpak Scholarship programme (until March 28th, 2022)
United-Kingdon: Entente-Cordiale programme (until March 31st, 2022)
The Philippines: PhilFrance Scholarships (until April 4th, 2022)

Ghana, Nigeria, Gabon, Japan, Vietnam, Indonesia, the Netherlands etc…
IMT Nord Europe's team is at your disposal to discuss about these possible scholarship opportunities that may exist to finance this study programme. Please contact us at: international-admissions@imt-nord-europe.fr.
Also, our partner Postgrad Solutions now offer 20 bursaries across a number of subject areas. Click here to apply – How to apply for a Postgrad Solutions Study Bursary | Postgrad.com