IMT Nord Europe is more than just a school. Our three Research and Innovation Teaching Centres develop our expertise in: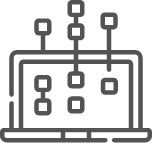 With the engineering of information and communication systems (management of industrial processes, both in terms of organisation and automation, but also in aspects of controlled production management, quality, operational excellence, sustainable development, etc.);
With the study and behaviour of materials (concrete, metal, composites, geo-materials) and the calculation of structures (parts, machine, building, engineering structure);


To develop, manage and maintain installations and equipment for producing energy and transporting fluids for industry, the service sector or the residential sector, taking into account energy savings, renewable energies and the ecological impact.
At the heart of educational programs
Each of these areas of expertise is at the heart of our educational programs. Specialised or versatile, you have the freedom to individualise your course around different themes: energy, environment, materials, digital technology, telecommunications, artificial intelligence, cybersecurity, services, industry and civil engineering.
In tune with the way society is evolving
The work of the Research and Innovation Teaching Centres allows IMT Nord Europe to always be in tune with the our society is evolving. Especially given that they are involved in collaborative projects with companies, partner universities or laboratories. The role played by IMT Nord Europe for the economy and the territories is recognised as vital to meet the current challenges faced by our world.