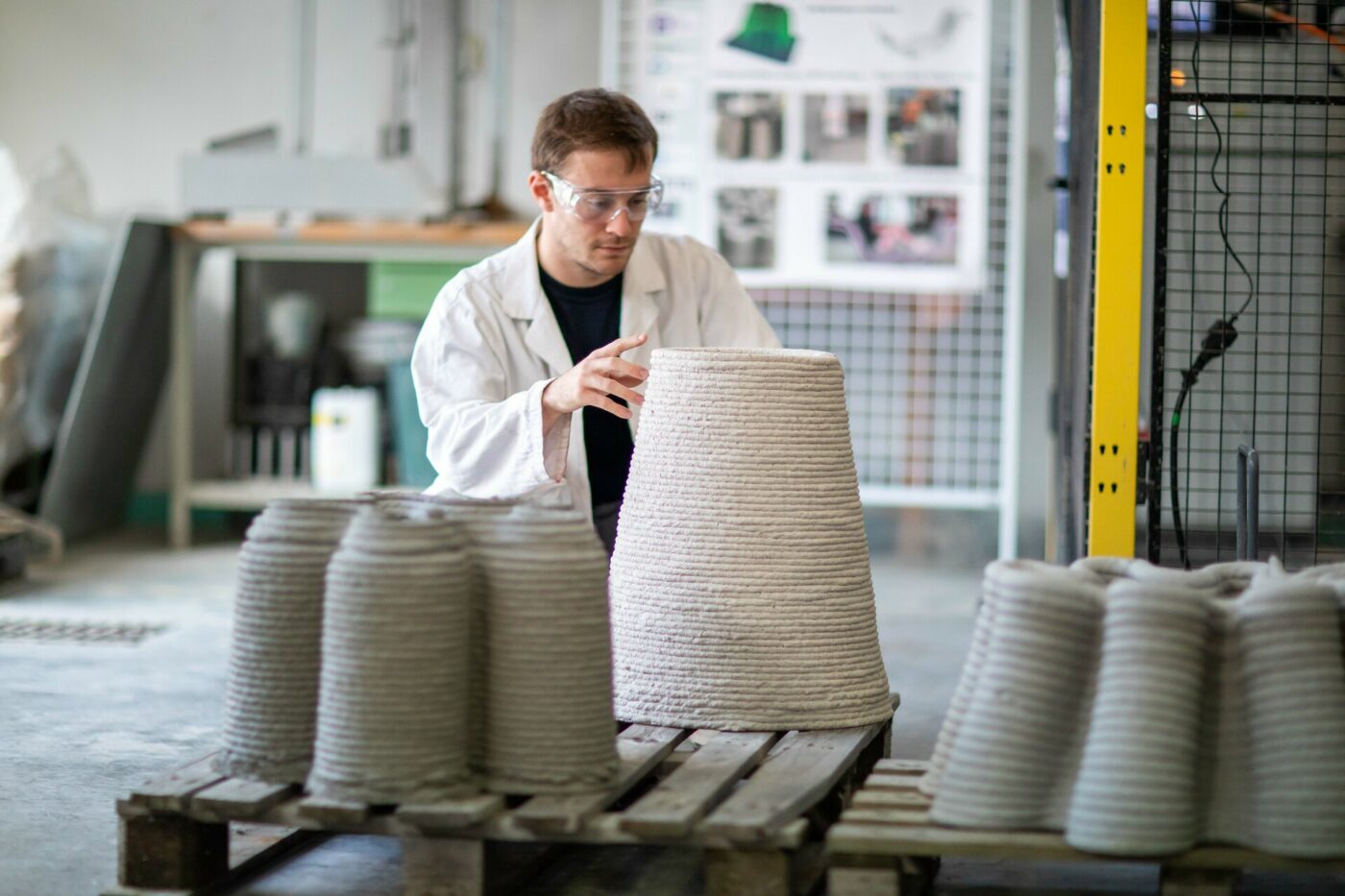 MS Products and processes of the concrete industry
The concrete industry has a turnover of 31 billion euros in Europe (excluding VAT) and has 8,000 factories employing over 210,000 people. In France it represents 634 companies and 906 centres producing 32 million tonnes of products each year. Of the 20,000 employees in the concrete industry in France, 15% are executives and engineers, some of whom are trained by this specialised masters in Products and Processes of the Concrete Industry, accredited by the Conférence des Grandes Écoles.
Objectives
The objective of this specialised master's degree is to train experts in Industrial Civil Engineering tools and methods capable of undertaking projects at the intersection of production and new technologies in the field of concrete. At the end, you will have knowledge and expertise in the products of the concrete industry as well as the associated construction techniques.
Jobs
The training in Products and processes of the concrete industry opens the door to many professional opportunities:
Business Director
Director of design studies
Production director
Project director
…
Partners
50% of the teaching is provided by IMT Nord Europe teachers and 50% by professionals from the concrete industry. This brings together companies that manufacture in fixed factories and market products intended for building, public works and environmental markets.
Syllabus
A total of 455 hours are devoted to theoretical and practical teaching and activities within the framework of a multidisciplinary scientific and technical project. The training is organized into 5 main teaching units (UV):
Introduction of precast
Strength of materials
Introduction of binders
Environmental construction
Generalities on geotechnics
Introductive sequence
Formulation of HPC
Structural design
New binders
Reinforced concrete for precast
Individual Management and Negotiation
Change Management
Managerial behaviors
Management and Leadership
Collective Management
Mechanical behavior of cracked concretes
Roads and Sanitation
Seismic design of structures
Pathology
Industrial visits
Challenges of the European energy transition
Scientific and Engineering Project
14 ECTS
Professional Thesis
30 ECTS
Apply
Rates
Application fee: €60 non-refundable.
Tuition: €7,500 for young graduates pursuing their studies, jobseekers or personal financing; €12,500 for professionals
Payable in 3 instalments over the course of the year, the 1st instalment paid at the time of enrolment is refundable in the event of visa refusal. Payments can be made by bank transfer or cheque.
You must hold one of the following diplomas:

Engineering degree accredited by the Commission des Titres d'Ingénieur (CTI list)
University-accredited postgraduate diploma (DEA, DESS, Master's, etc.) or professional diploma (Bac+5)
M1 or Master's degree or equivalent for auditors with at least 3 years' professional experience in the field
Title registered with RNCP level 7 (formerly level I)
Foreign diploma equivalent to the French qualifications required above
By way of derogation :

Bac+4 degree with no professional experience
Bac+3 degree with at least 3 years' professional experience
Prerequisites: computer and network skills
Applicants from outside France should find out about the conditions for studying in France and register on the "études en France" platform.
If you are a jobseeker registered with Pôle Emploi or have any questions about financing, please contact us.
The application deadline is June 14th, 2024.
Non EU-students are invited to get informed on the conditions to come study in France here and if needed to register on the "Etudes en France platform". You are advised to apply in the 1st round in order to have more time to arrange your international mobility on time.
Incomplete applications will not be taken into consideration. In order to ensure that your application is processed, it is your responsibility to make sure that it is complete and that all required supporting documents are attached in the appropriate format (ZIP and PDF) no later than the deadline.
The €60 application fee is non-refundable for whatever reason (resignation, denial, admission etc.) and is due to complete your application.
* These dates are approximative and non-contractual.
Calendar
The program consists of an academic semester on campus from September 2024 until February 2025, and a 6-month internship in a company or a research centre between February and August 2025.
Contact
Director of the Specialised PPIB Masters
Mahfoud BENZERZOUR
Director of the GCE teaching
Rachid ZENTAR
Administrative contact person
masteres.specialises@imt-nord-europe.fr