Allow your employees to develop their skills with completely adapted business modules in collaboration with your HR personnel.  IMT Nord Europe provides its expertise to enable executives and technicians to update or improve their skills in 3 areas:
      Digital systems
      Energy and environment
      Materials and processes
A personalised training system :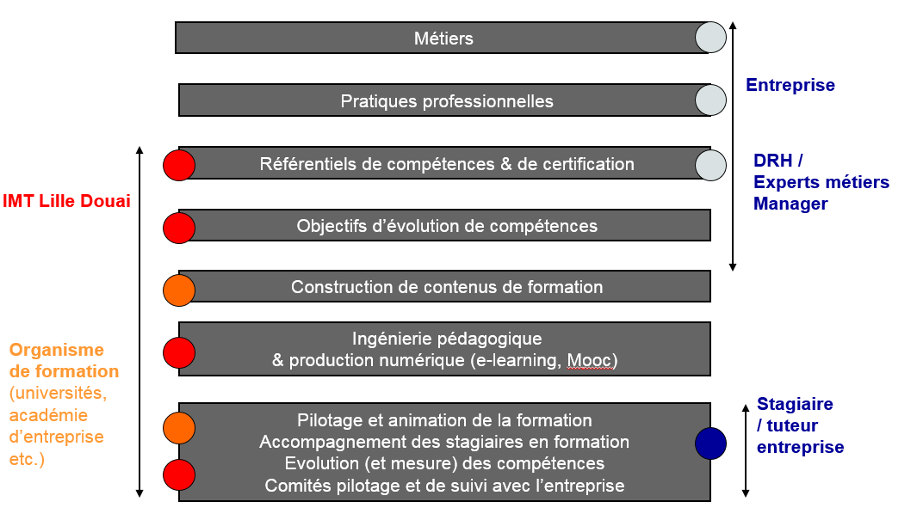 IMT Nord Europe's Continuous Training Centre creates reference documents for skills and certification based on professions, broken down into company aims, missions and professional practices. From there, objectives for employees' skills development are produced in conjunction with HRD/sector experts/managers. This means that training content and training tools are fully adapted to the context of the interns.  IMT Nord Europe also supports them on educational, technical and human levels.
Intra-company internships
If the off the peg work placements do not meet your expectations, IMT Nord Europe has the capacity and expertise to offer you tailor-made placements within the scope of the School's specialisms. Whichever option is chosen, the work placements are developed with the companies for an effective program adapted to specific needs.
1,200 people trained and awarded degrees
Over the last 10 years, a total of more than 1,200 people have been trained and awarded degrees through continuous training at IMT Nord Europe using a blended learning mode Among them: 
IMT Nord Europe has been a partner of the Technical and Information System Department of Orange France for more than 10 years and of the Orange 2020 program. Seven degree courses (from 3-year to 5-year) have been designed and rolled out in blended learning mode in the fields of IT, telecommunications and management.
IMT Nord Europe has worked to create an AI Project Manager certification as part of the commitment to develop employment and skills (EDEC) started in 2019 and carried by MEDEF Lille Métropole, AKTO and the Ministry of Employment (DGEFP and Direccte Hauts-de-France). Blended learning training began to be rolled out in January 2021.
IMT Nord Europe is recognised as a training centre for the Ministries of the Economy and the Ecological Transition. Each year around 50 work placements are organised for executives, government technical experts in technical fields (metrology, technological risks, vehicles) and also in quality, IT and management.