The apprenticeship tax helps the teaching capacities and the international influence of IMT Nord Europe to be even better. At the end of the day, it is our students and therefore your future engineers who benefit!
The apprenticeship tax is a highly beneficial resource for the quality of IMT Nord Europe's training courses, because it allows us to:
consolidate our new IMT Nord Europe curriculum for general engineers and digital experts that began in September 2018;
support our increased student numbers (+50% over 5 years) and increase the space we can dedicate to educational innovations (transformation of 2 traditional lecture halls into open space, for example);
strengthen our educational tools (project-based learning, serious games, MOOC, distance learning, language learning workshops, agile methods, courses in gamification, etc.);
develop the capabilities of our FabLab, especially in 3D printing;
increase our international appeal with courses entirely in English.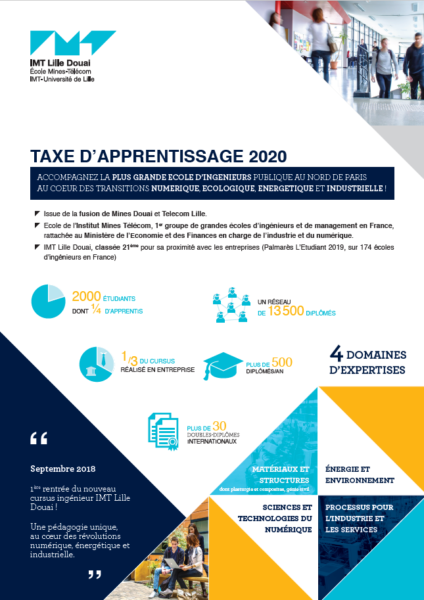 In 2020, the apprenticeship tax is being profoundly reformed, changing the distribution of the payment as well as the terms within the framework of the "Professional Future" law. This contribution is payable directly to IMT Nord Europe without going through an intermediary, between 1 January and 31 May 2020
UAI code: 0597060D IMT Nord Europe
École Nationale Supérieure Mines-Télécom Lille Douai
CITE SCIENTIFIQUE
RUE GUGLIELMO MARCONI
BP 20145
59653 VILLENEUVE-D'ASCQ
By bank transfer
IBAN : FR76 1007 1590 0000 0010 2433 444 
BIC : TRPUFRP1
Référence : IMT Nord Europe /TA2020
By cheque
Made payable to: Agent comptable IMT Nord Europe
(taxe d'apprentissage)
941 rue Charles Bourseul
BP838
59508 Douai cedex
For the apprenticeship part, the contribution is collected in 2020 by your OPCO (skills operator), affiliated with the professional branch of your company.
UAI code: 0596478W FORMASUP / IMT Nord Europe
CFA FORMASUP Nord-Pas de Calais
Antenne de l'École nationale supérieure Mines-Télécom Lille Douai
7Bis Avenue de la Créativité
59650 Villeneuve-d'Ascq
degree code: 1703260F
Contact
Valérie BACHELET
Department of Economic Partnerships and Careers (DPEC)
03 27 71 21 71  – 06 07 97 50 21